Chapter 1
Sharp-eyed Geezer's Diary readers may have noticed that I referenced "some travel ahead" in an earlier entry. 
"Travel?  For a Covid-confined shut-in?" some readers may wonder. "What's with that??"
Well, as those who read my May 29 Union Democrat piece on riding the trans-Canada train from Vancouver to Toronto know, I am a rail fan. More than a week ago, my monthly copy of "Trains" magazine arrived. It reported that Amtrak's national network is running virtually empty. 
These are Ghost Trains, covering thousands of miles every day with just a handful of passengers on board. Still, because they have been deemed an "essential service" by the government, Amtrak has received a billion dollars in bailout funds to keep its system running.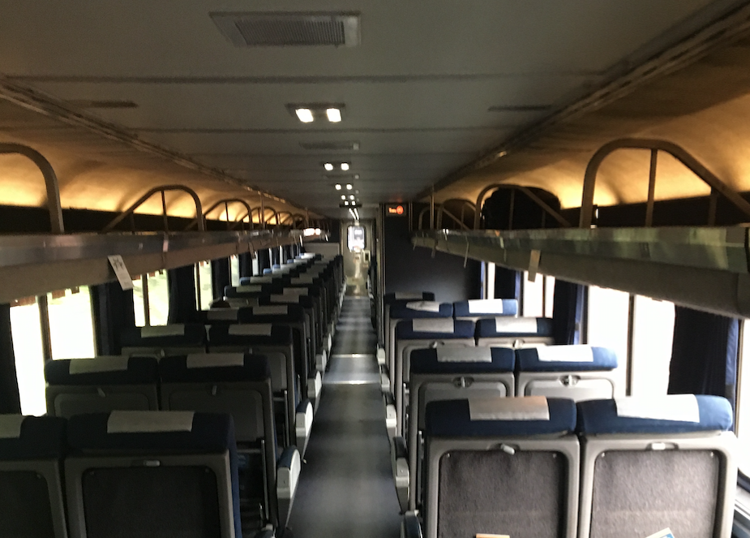 So how empty are these trains? 
Sleeping cars that can accommodate 60 passengers are rolling with four or five on board. Ridership has sunk below 10 percent of capacity and the national rail line is losing millions every day. 
On April 16, when a "Trains" reporter was on board the Chicago-to-Bay Area California Zephyr, it ran one stretch of the trip with just six passengers on the entire train. And that's both sleepers and coaches. 
In Amtrak's misery, I saw opportunity: I could take my favorite trains, and have them pretty much to myself.  
My chances of contracting the Corona virus on board?  Well, sure, I'd be safer staying up here on Yankee Hill. But aboard Amtrak, I will have most of a large rail car to myself. 
My compartment includes a bed, toilet, sink and shower. I'll be the only one who goes in there. I'm armed with masks, wipes and hand sanitizer.  I'll be going totally OCD for this trip.
My meals will be delivered. Somebody will knock, I'll open the door and there will be my delicious pre-fab dinner. 
Dining cars, one of the great pleasures of rail travel, are unfortunately gone for the foreseeable future thanks to the virus. So Amtrak's perfectly grilled and delicious New York steaks are not part of the pre-fab menu. 
Amtrak, by the way, refers to these packaged meals as "contemporary dining."  
Yes, I'm allowed to go up to the lounge car to check out the scenery, but I'm required by Amtrak to wear a mask whenever I venture out of my room. And, of course, I'll stay six to 10 feet away from anyone who happens to be up there. 
Which, given rock-bottom ridership, should not be at all difficult. 
I ran this trip by my doctor in Sonora before buying tickets, and he judged my viral risk as low. I'd probably be in more danger, he added, wandering into any grocery store here in town. 
My grown kids, however, do not think this trip is a good idea at all. Because of my age, they reason, I'm at higher risk of being infected by passengers and Amtrak crew members who are strangers and may be asymptomatic (or symptomatic) carriers. 
And as Rosy, my older son Ben's fiancé, is a doctor, hers is an informed opinion. But, she concedes, reasonable people can differ. 
So my children have grudgingly accepted what they believe is a flawed decision on the old man's part.  Still, they are wishing me well and hoping for the best. As, of course, am I. 
On Wednesday night I will board the Coast Starlight in Emeryville, Amtrak's Bay Area hub. Thursday afternoon, I will arrive in Portland and transfer to the Empire Builder for a two-day, two-night trip to Chicago. 
After spending a night in a hotel near Union Station Saturday night, I'll board the California Zephyr Sunday for a 48-hour trip back to Emeryville, where I will arrive on Tuesday afternoon, June 16. 
Over six days, I'll cover 5,414 miles at a very leisurely pace. I'll see the Columbia River Gorge, Glacier National Park, the emptiness of North Dakota and the Twin Cities before crossing the Mississippi River at La Crosse, Wisconsin,  and cruising into Chicago on the Empire Builder.  
Aboard the Zephyr, I'll race across the Illinois and Iowa farmland Sunday afternoon, then wake up in Denver Monday. Next our train will climb into the Rockies on a long series of switchbacks, cross the Continental Divide amid the six-mile the Moffat Tunnel, then wind through a series of Colorado River canyons for 238 miles.
On Tuesday morning, I'll awake in Reno before ascending Donner Pass, then gliding through Colfax, Auburn, Sacramento and Davis on the way back to Emeryville. 
And at that point I might just feel like a sprung prisoner, weary after six  days of onboard confinement and "contemporary dining."  I may avoid Amtrak for months, if not years to come. 
But I doubt it:  I have a very high capacity for Amtrak pain.  
Chapter 2
So how bad can an Amtrak trip get? How late can one of its trains arrive?  And how much stuff can go wrong? 
As my coming departure on a six-day, 5,414-mile rail trip is now within hours, that question may have occurred to you. It has occurred to me. 
I have a 90-minute connection to make in Portland Thursday. If I miss it, I'll have to stay overnight in Oregon and push the entire trip back a full day. 
Is this likely to happen? No: The Coast Starlight, which will carry me to Portland, has one of the better on-time records in the Amtrak fleet. 
But can it happen? Absolutely. And when stuff starts to go wrong on a train, it sometimes spirals out of control. 
I actually kept the log below on a notoriously ill-fated trip I took from Sacramento to Burbank on the Coast Starlight about five years ago.
Almost everything that could go wrong on this journey did. 
4:30 a.m. Thursday – Alarm at my motel in Sacramento rings. 
5:40 a.m. – I arrive at Sacramento Amtrak station. It had been very nicely remodeled since my last visit. This handsome station turns out to be the highlight of my trip, which should have ended with an on-time 8:31 p.m. arrival in Burbank. 
6:35 a.m. (scheduled departure time for southbound Coast Starlight) – Train has yet to arrive. 
6:45 a.m. – Train arrives. 
7:15 a.m. – Conductor declares, "We're ready to go." We don't go. 
7:30 a.m. – An eastbound freight passes us on the left. "We've been waiting for him," says the conductor. "Now it's our turn."  It's not our turn. 
7:45 a.m. – Two more trains pass, then it really is our turn. We leave. 
9:40 a.m. – We arrive at Carquinez Bridge. "They've raised the bridge for a ship. We'll have to wait," says the conductor."  We wait. And wait. 
10:10 a.m. – The ship passes, the bridge is lowered. We go over it. "They probably opened it too early," grumbles our dining car waiter. 
10:30 a.m. – We arrive in Emeryville. The conductor advises any passengers bound for Oakland to get off here and take a cab or bus. Our train will be pulling into the Oakland Amtrak yard to pick up a private car and "some locomotives," he explains, and it "may take a while."
11 a.m. – We go into the yard and pick up a private dome car, "The Sierra Hotel," and three more locomotives (now we have five).  I guess an extra engine or two might come in handy. The process takes 45 minutes, which onboard Amtrak folks deem "fast." 
1:05 p.m. – We arrive in San Jose more than three hours late. And we don't leave. "We are having locomotive issues," says the conductor. With five units? Two of them brand-new Siemens diesels? You're kidding. 
1:55 p.m. – He was not kidding: We leave San Jose even later, unexplained issues apparently resolved. 
3:15 p.m. – We arrive in Salinas, no glitches since SJ. 
4:20 p.m. – We grind to a halt in a very small town short of Paso Robles. "Our crew'stimed out," we are told.  "No Amtrak crew can work more than 12 hours and these guys have hit the limit." The new crew arrives, but then we must wait until the northbound Starlight passes us on the single track available into San Luis Obispo. 
6 p.m. – Our opposite number passes us and we get going. 
7:30 p.m. – We arrive in San Luis Obispo (they don't call it SLO for nothing), running about seven hours late.  The conductor says we can get some fresh air but cautions us not to stray far from the train, as the crew still hopes to make up some time between here and LA. The whistle blows, we get back on, and nothing happens. Eventually the conductor comes back on the intercom and says one of the locomotives is overdue for inspection (Huh? Don't we have five diesels up there and aren't two of them brand new?)  He says this will take about 35 minutes. It takes well over an hour. 
9 p.m. – We depart SLO, now nearly nine hours late. 
9:10 p.m. – The lounge car attendant comes over the PA, sympathizing with passengers, some of whom are very angry and others of whom are laughing at the absurdity of it all. He says that he's going out on a limb and that it just might cost him his job. But he's offering free coffee for any interested passengers. 
9:33 p.m. – I get a cup of free coffee and buttonhole the conductor. "So is there still a chance we can make up a little time?" I ask. He rolls his eyes. "Late trains get later," he pronounces. 
10:21 p.m. – I go back to my roomette, tell the car attendant to wake me up 30 minutes before Burbank, and go to sleep. 
2:25 a.m. Friday – The attendant wakes me up. We are approaching the station. 
3:07 a.m. – We arrive in Burbank, 6 hours and 37 minutes late. So we did make up a little time. But I am not able to find a cab or Uber, so I call the nearby motel at which I have reservations. The desk clerk drives her own car over to pick me up.  I tell her the whole story. 
"Remind me never to travel by Amtrak," she responds. 
3:45 a.m. – I go to bed in Burbank. 
Chapter 3
I got on my first Ghost Train, fittingly, at midnight.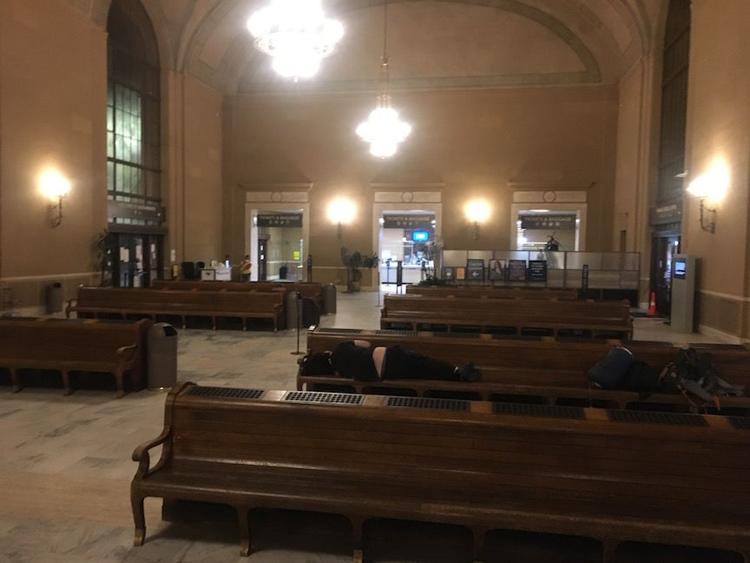 I decided to board the Portland-bound Coast Starlight in Sacramento,  rather than Emeryville – thus giving myself an easier drive home when this adventure (or misadventure) ends. 
Plus, I saved $11 in fares by shortening my Amtrak trip by 84 miles.
Sacramento's station was suitably spooky: Five waiting passengers were in the cavernous I Street depot when I arrived at nightfall Wednesday. No doors were open, and I had to knock repeatedly before a surly security guard let me in without saying a word. 
Then, almost resentfully, he slammed the door so hard behind me that its sound echoed through the station. It was a sound I would hear a few more times before catching my midnight ride north. 
This is the new Amtrak: Masks required, no coffee, no food, no nothing available in the station. There is a future coffee shop, with a sign that  says "opening soon." That café will likely be opening soon for a good long time.
There is also a line of credit-card snack vending machines outside the door. (The SAC station, as well as all Amtrak trains, are no-cash zones.) But to get at these machines, you must go out.  Then you'd have to knock to get back in, again incurring the silent, begrudging wrath of the door-slamming guard. 
So I went over to the First Class Waiting Room, reserved for sleeping car passengers. It looks like a substandard living room in a 1970s apartment and has a jury-rigged partition around it. 
I walked in, and a couple who had been the room's lone occupants for hours quickly slapped on their masks and greeted me. 
Ron and Carol two days earlier had picked up the westbound California Zephyr in Mt. Pleasant, Iowa. The CZ was right on time, arriving in Sacramento at 4 p.m.  Wednesday. Which meant my new friends were well into an eight-hour wait for Coast Starlight, which would take them north to their home in Eugene. 
Whatever excitement they might have had for a long rail journey had waned. "We're tired," said Ron, in a mask-muffled voice. "We're ready for this to end." 
The Zephyr's pre-fab "flexible dining menu," he added was mediocre, with breakfast being the questionable highlight. And when a train's culinary apex is a Jimmy Dean-sausage, Egg McMuffin-wannabe, it's all downhill for the rest of the day.
But I knew what I was getting into. 
The Starlight was right on time into Sacramento, and at midnight I walked the platform looking for Car 1430. 
"Mr. Bateman? Mr. Bateman??" a sleeper attendant called after I had passed. 
"Yes?" I responded, turning around.  "This is your car," she answered. "No it's not," I responded, pointing to the number 1431 next to the car's door. "That's wrong," she said. "This is actually 1430. This is your car." 
Welcome to Amtrak. 
She showed me to Room E, correctly labeled, clean and spacious (for a train), with its bed all made up. Within five minutes I had tucked in and within 15 I was sound asleep as we speeded north toward Chico, Redding and points above. 
At 6:30 a.m., by then approaching Klamath Falls, I awoke to the sound of a ghost. 
I mean, if this is a Ghost Train, it must have been a spook. But it wasn't: It was a 4- or 5-year-old boy named Jameson in the room next to mine. 
Not many of the compartments in 1430 were occupied and the next sleeper down was completely empty. But as luck would have it, Room D was occupied – by Jameson and his good-natured but long-suffering parents. "Jameson, nooo!!," they would plead again and again, giving away their defiantly loud son's name. 
So, no, I did not have this train all to myself. 
"Ridership is slowly picking up," said Calista, our sleeping car attendant. 
So, technically, the Coast Starlight is not a Ghost Train. You might instead call it a "Train of the Walking Dead," as most of its few passengers are like me – slow-moving oldsters wearing masks. 
But it ran right on time. And for Amtrak, that's something.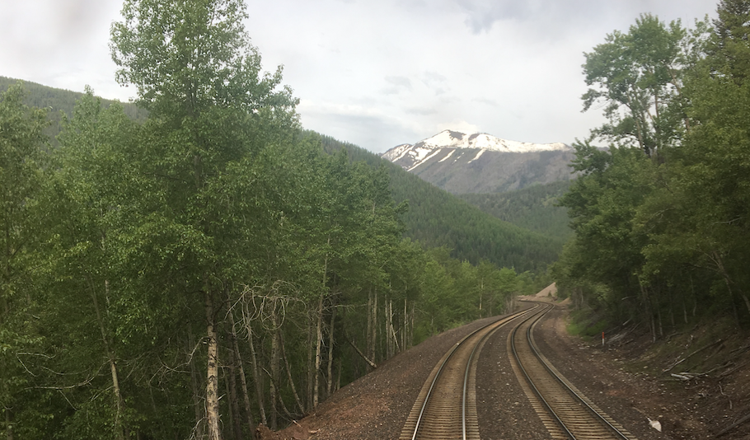 Oregon, as you might expect, was green, cool and cloudy:  We hit Chemult, Eugene, Albany and Salem without losing a minute. Then, after a 90-minute layover at Portland's Union Station, I boarded Train No. 2 of my week on the rails: The Chicago-bound Empire Builder. 
The Builder really was a Ghost Train.  Just two of the 19 rooms in my sleeping car were occupied. A guy named Jacob and I were the only passengers on 2730.  Jake was right next door, didn't bring a 4-year-old, and didn't make a sound. 
"This is supposed to be our high season," lamented T, our car attendant. "In June, every room is normally sold out months ahead of time.  Normally, it's all hustle-bustle on this train." 
Now, it's too much of nothing. "But that's OK," grinned T, an 11-year Amtrak veteran who lives in Chicago.  "I only have two beds to make." 
I reserved my own room less than a week ago. I could have booked it minutes before departure. 
I walked the rest of our train. Maybe 20 passengers were on board. Maybe not. 
So plenty of observation-car seats were available for our 200-mile trip up the Columbia River Gorge – a stretch of Amtrak's route I had never ridden before.  Midway through, the snow-covered summit Mt. Hood rose above the canyon walls, then the skies to the east darkened and  fired up with lightning.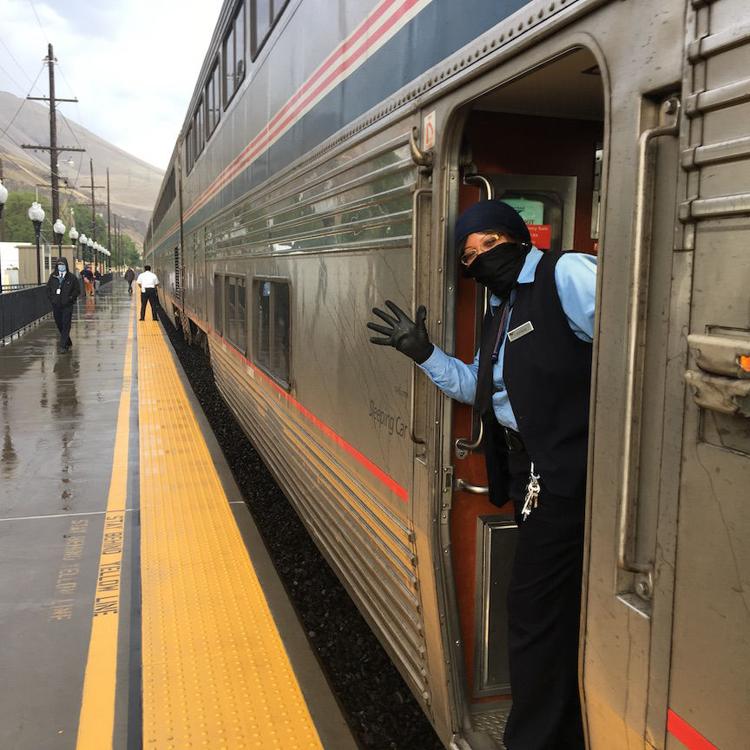 "Wind advisories ahead," T advised at rainy Wishram, a tiny Washington town 100 miles up the gorge.  I rubbed my hands together:  Going through a lightning storm on a train is an E-Ticket ride. I could not wait. 
But, alas, the storm evaporated and the select few passengers on the Empire Builder will have to look elsewhere for thrills. 
Or not. 
Chapter 4
Now I'm a hero to all my fellow passengers on the Empire Builder's Sleeper No. 2790.  Both of them. 
I sprung for pizza. I called ahead from Shelby, Montana, to the Pizza Hut in Havre – 90 minutes and 105 miles east – and ordered up a medium combo for trackside delivery. 
And when we pulled into Havre, there was Lindsay – who had taken my cell-phone order – on the platform with a piping-hot pie. 
And did I get some looks from my fellow passengers. Most betrayed "why-didn't-I-think-of-that?" sentiments.  After all, we were all cooped up on Train No. 27 – which is running without a diner and serving up reheated pre-fab meals for breakfast, lunch and dinner. 
While edible, that stuff makes Pizza Hut look like Four Seasons or Chez Panisse. 
I wish I had been clever enough on my own to think of ordering pizza from a train. But it wasn't my idea, and it probably wasn't Rachel's either. 
Rachel? Never met her, wouldn't recognize her on the street. 
But two years ago, the last time I rode the Empire Builder to Chicago, we stopped at Havre and there was a Pizza Hut guy getting out the word. "Extra large pepperoni for Rachel!!" he yelled from the platform. "Got a pizza for Rachel!" 
Rachel never showed.  And in no time, the Amtrak conductor was shouting  "All Aboard" and the Hut guy was holding the bag. And the pie. 
I thought about racing up and hollering "OK, OK, I'm Rachel's husband. Let's have it," but I didn't.  We left that pizza behind. 
"Don't worry," the conductor told me. "I'm betting Rachel called from the westbound Empire Builder. It's due in Havre in about 10 minutes." 
So when I called in my own order, I made sure to tell Lindsay I was in the last car on the eastbound train. And, once we arrived in Havre, I had T, our car attendant, take a shot of our pie handoff. 
Then I became a hero. 
Readers of the last Ghost Trains chapter might remember that I'm sharing my sleeper with one other passenger, Jacob. I hadn't met him, but knew where his room was and knocked. 
"It's your neighbor," I said, and when Jacob opened the door and saw the proffered pie, his eyes grew wide.  
"You da man!!" he said, grabbing a slice.  
By this time our minor commotion had flushed out a hitherto unknown third passenger on Car 2730. Her name was Alice, and I told her we might as well make this a pizza party for the entire car. 
"Thanks so much!" she said, grabbing her own slice. I think she was smiling from behind her mask. 
So there you go: A tale of how easy it is to become a hero on a train bereft of decent food. 
Add this to the list of stuff that just doesn't happen on airplanes. 
Another item on that list, unfortunately, is not happening on this trip: talking to fellow passengers. Over my decades riding the rails, I've gotten to know scores of riders. 
You join them in the lounge or at tables in the diner, sharing tales of lives, hometowns, friends, travels and more. You don't have the time – and likely not the patience – for this on an airliner. 
A few years ago I met a South Carolinian and his wife aboard the westbound California Zephyr. They were headed to Sacramento, then planned to rent a car and drive to Yosemite. 
Over dinner, I told him I was from that area, recommended a couple of restaurants in Sonora, and told him of an "interesting detour" from Sonora to Yosemite.  
He called me after his vacation: "The Diamondback Grill was great!" he said. "But that road you told me about – that Wards Ferry – I don't think I'll ever forgive you! My wife still hasn't recovered." 
And, he continued, "When y'all get down here to South Carolina, I got a road or two for you to drive!" So far, I've passed. 
Now, with Covid clamps firmly in place, this kind of interaction is not possible: Amtrak passengers wear masks, keep social distance and pretty much don't talk. Meals are not social occasions, and most riders carry pre-fab dishes back to their seats or rooms. It's not the same. 
What is the same is ground-level scenery.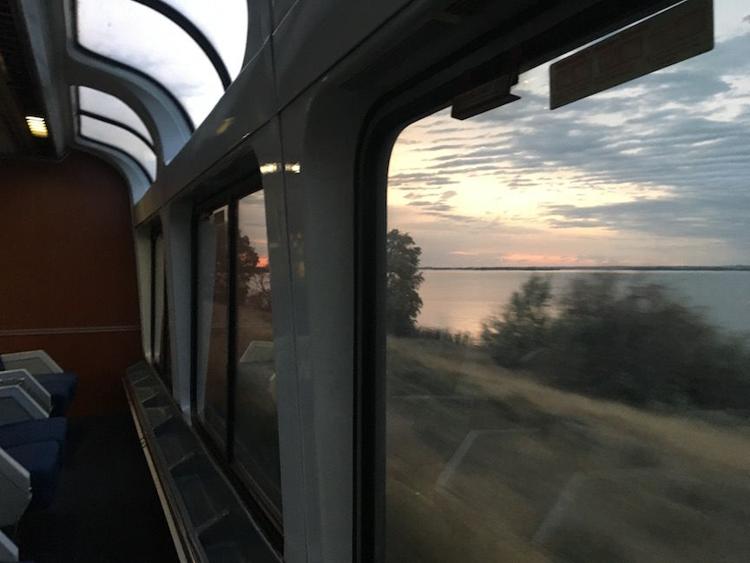 Thursday: Two hundred miles up the Columbia River Gorge. Punctuated by cloudbursts, lightning bolts and, finally, a gorgeous sunset.
Friday: Rolling over the old Great Northern High Line, the Empire Builder threads its way through the high Rockies as it skirts Glacier National Park before easing into Eastern Montana's Big Sky country. 
Those in jetliners overhead see none of this. 
Fliers, however, do see and hear from their pilots every now and then. Less so rail passengers: Their engineers switch out every eight hours in cabs of the 4400-horsepower diesels up front. No "This is your engineer speaking" over Amtrak's PA. 
But walking the platform at Minot, ND, I met ours. She was charming. That's right, she: Mary is an Amtrak veteran who handles the Empire Builder's 453-mile overnight runs back and forth between Minot and her home in St. Cloud, Minnesota.  
"Yep, I'll be your engineer tonight," she grinned, climbing into the cab.  "Been at it 20 years." 
"So I guess you know what you're doing," I said. "I would hope so," said Mary. "Have a good trip." 
We left Minot an hour behind schedule, but Mary was cranking – hitting Amtrak's 79-mph limit on the empty Dakota plains, her whistle sounding through the night.  By the time her shift was over the next morning, the Empire Builder was right on time.   
And I celebrated with a cold-pizza breakfast. 
Chapter 5
Boarding the California Zephyr is like coming home. 
I've been a passenger on this train dozens of times, starting in the 1950s. 
I first laid eyes on the Zephyr at Chicago's Union Station.  I was maybe 8, and my father was bringing me to work with him. When we got off our steam-engined Milwaukee Road commuter train, there it was:  A gleaming silver streamliner, complete with multiple diesels, many dome cars and a glassed-in observation lounge at the rear. 
"Where's that train going?" I asked Dad. "I want to ride it!" 
"That's the California Zephyr," he answered. "It goes to San Francisco, and someday we'll take it." 
Two years later, we did. And I was hooked. 
Our family took the Zephyr on a couple of vacations, and at college I'd persuade friends to ride it with me back to the Midwest.  The Zephyr was then operated by the Burlington, Rio Grande, and Western Pacific railroads – all now defunct or part of much larger freight lines.  
Back then, the three railroads figured they could make money by running a train over some of nation's most spectacular scenery: The heart of the Rocky Mountains (Rio Grande) and the Sierra's Feather River Canyon (Western Pacific). 
Through the 1950s and into the 60s, they did. The California Zephyr became "America's most talked about train." 
But by the late 1960s, nobody was talking about passenger trains. Everyone traveled by air, and the three founding railroads were trying to dump the money-losing Zephyr. 
Their strategy was convincing the government that nobody was riding it.  In the summer of 1969, a college friend of mine from Des Moines joined me for a trip west on the Zephyr. We drove to a nearby station to pick it up, and the agent said the train was sold out.  
"Don't believe it," I told my friend. "He's trying to discourage passengers." 
The Zephyr arrived,  and we asked the conductor if the train was indeed full.  "You kidding? We're nearly empty," he laughed, inviting us on.  
But not long afterward, the three railroads did dump the Zephyr. 
In the early 1970s, the train was revived by Amtrak.  It now crosses the Sierra via Donner Pass, but it's still a gorgeous ride. The Zephyr no longer has domes, but is equipped with a diner, sleepers and car-length observation lounge. 
If you're going to ride just one Amtrak train, make it the California Zephyr.  
A caveat: You'll also see some less-than-beautiful scenery.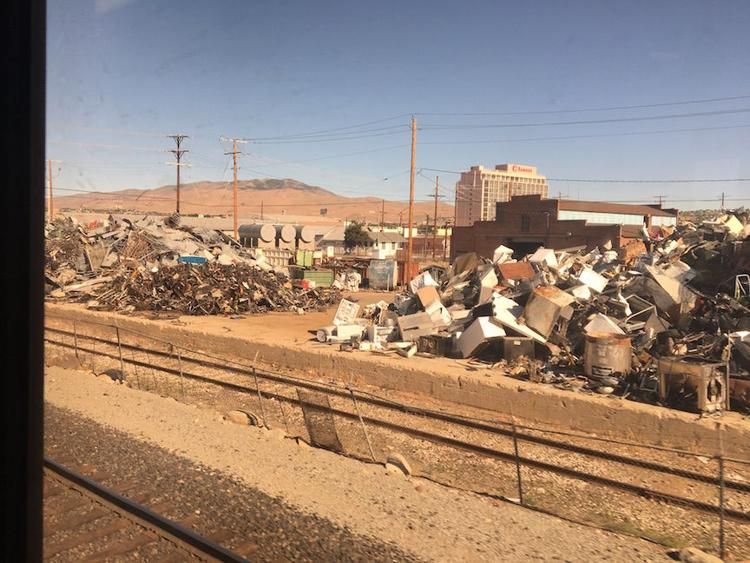 Want an up close look at garbage dumps, junk cars, abandoned factories, boxcars covered with graffiti, rundown homes, deteriorating warehouses and trash-strewn backyards that will never make Better Homes and Gardens? Ride a train. 
Think about it:  You've probably read lots of real-estate ads over the years.  Many tout oceanfront, river, and lakeside properties.  Being next to playgrounds, parks or golf courses is also good. 
But have you ever seen an ad boasting that your new home will be just a few feet from Union Pacific or Burlington Northern main line?
Not gonna happen. Not even a train freak like me wants to wake to a 120-car freight rumbling by at 2 a.m. So trackside neighborhoods are mostly downscale. 
On a plane, you see almost nothing from 30,000 feet. In a car, you see Interstate exits, billboards and fast food. But on a train you see the good, bad and ugly, 
You also get a look at where each community's downtown used to be – and what's become of it.  A few towns have revived. Many have not.  
The Zephyr, for instance, this afternoon went through the Mississippi River town of Burlington, Iowa.
Its most prosperous days are in the rearview mirror.  Burlington has at least a half-dozen factories that shut down decades ago and are today brick hulks.  But at least one of those one ancient warehouses, I noticed, is now being repurposed as "luxury lofts." So things might be looking up in B-town. 
I also saw a fading sign on another long-vacant trackside building:  "Moehn Brewery."   Yes, I had questions. And, of course, my phone had answers: 
Martin Moehn opened that brewery in 1911 and, as river cities were hard-drinking places, it prospered along with 10 more breweries in Burlington.   
At its height, Moehn was rolling out hundreds of barrels a month. Then along came Prohibition and he went out of business. 
And today? I did not see them trackside, but the Burlington boasts a half-dozen craft breweries. So Martin Moehn just might be raising a toast from the Great Beyond.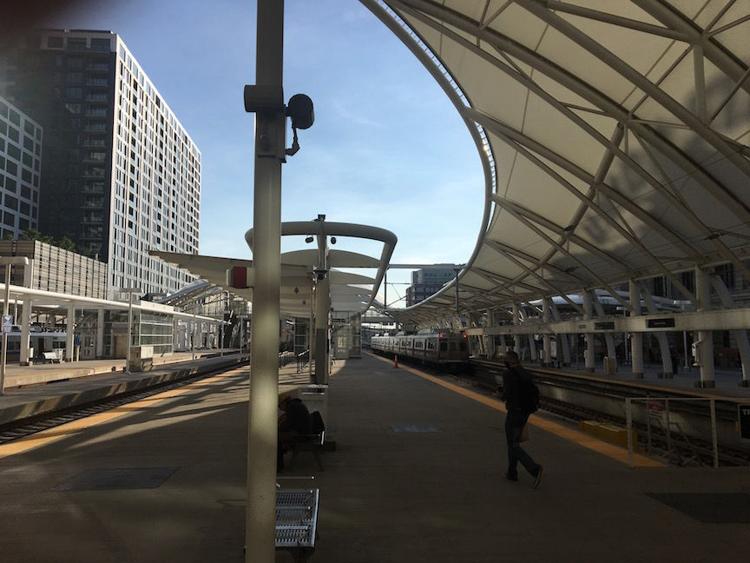 Next, let's move to a big-city success story: Denver. 
For years the Zephyr's long stop there was dismal. The cavernous old Union Station was run down, empty and in a bad part of town. Then, maybe a decade ago, Amtrak began stopping at a temporary, modular station  "pending renovations" to the downtown depot. 
This went on for years, causing me to believe that the rumored remodel was a myth. Until it reopened. 
Denver's new Union Station is amazing.  In a $58 million remodel, the old building has been totally overhauled and now houses a five-star hotel, bars, restaurants, a deli, an ice-cream parlor and more. 
Wisely kept was an ancient red neon sign outside the depot, reading "Union Station – Travel by Train."
The station's entire neighborhood, once in serious doldrums, is trendy and alive. The overhauled depot hosts not only Amtrak, but Denver's light-rail and bus lines. It is highlighted by sweeping, dramatic architecture. 
That station is a good place to breathe in some mountain air and get ready for a great day going through the Rocky Mountains. 
Chapter 6
The Zephyr's climb into the Rockies and its path through the Colorado River's canyons are the most spectacular scenery on Amtrak's network. 
First, over a series of switchbacks, the train climbs more than 4,000 feet from Denver to the 9,239-foot Continental Divide. The Zephyr crosses that divide amid the 6.2-mile Moffat Tunnel, completed in 1928.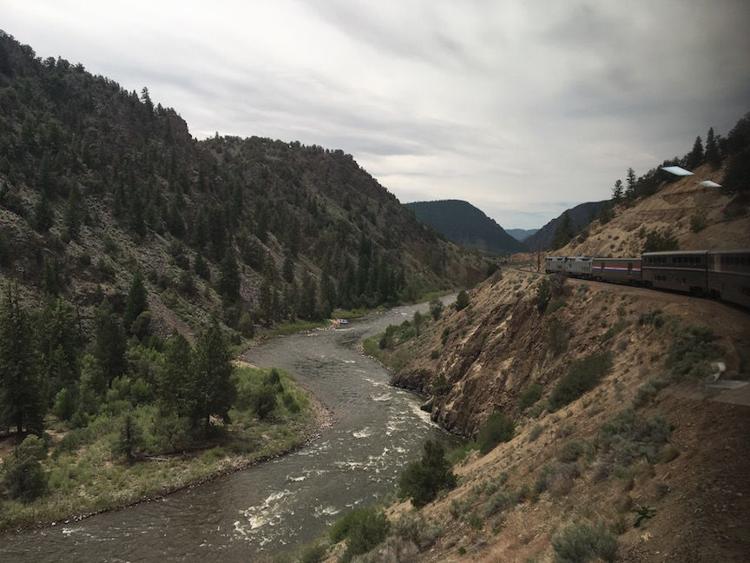 The train exits the tunnel at Winter Park, ski resort and gateway to Rocky Mountain National Park. Next, it threads through a series of spectacular Colorado River canyons (Upper Gore, Lower Gore, Byers, Glenwood and Ruby) for 238 miles before hitting the high plains. 
But what is by far the most talked-about scenery on the Zephyr's breathtaking route?  Hint: It's none of the above-mentioned canyons. 
It's the moon. 
More accurately, it's many moons: The Colorado River becomes Moon River anytime the Zephyr is there. As soon as the train shows up, shorts, trunks and cutoffs come down.  
In a tradition dating back decades, Colorado River rafters moon the train. Yesterday I saw at least 20. 
Most of the butts were solo, but there were a couple of duets and, in Upper Gore Canyon, a rare quintuple moon was flashed by all the passengers on a single raft. 
The tradition's origins are unclear, but early in the mass-mooning era Amtrak conductors would warn sensitive passengers in advance. Pants-dropping is now expected and there is more laughter and 1-to-10-scale moon ratings than outrage or embarrassment. 
But one thing I have yet to see,  and doubt I ever will: An Amtrak passenger mooning back. 
Finally, readers, be thankful for this: No photographic moon shots illustrate this final "Ghost Train" chapter. And, mercifully, it includes way less than 1,000 words on the subject. (To be exact: 189). 
So congratulate me on my restraint, and let's move on.  To a few frequently asked rail questions: 
Is Amtrak pandemic-safe?  Reasonably. Most trains are running nearly empty, so sources of infection are few. Masks are required on board, but that rule is not strictly enforced. As the Zephyr has a few more passengers than the Starlight or Empire Builder, I've spent more time in my room and less near unmasked passengers. I tested negative just before I left, and I'll get tested again after I get home. 
How's the food? Not good. During these Corona days everything is pre-fab and reheated. These meals are edible and filling, but not close to inspiring . You eat in your room, your seat or alone at a table in the diner. No socializing. Last night was my fifth on this long Amtrak trip, and nothing on the five-item menu sounded good.  "What would you suggest?" I asked a conductor. "Try the pasta and meatballs," he suggested. "It's my TV dinner of choice."  I did: No comment.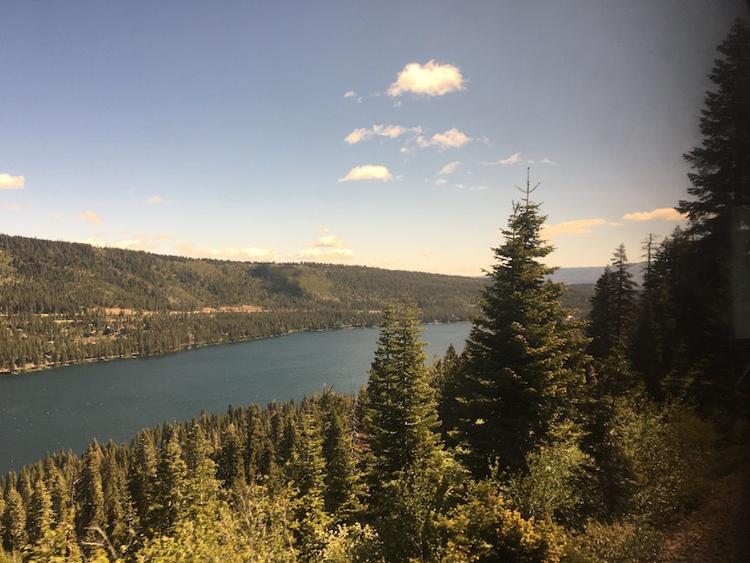 The California scenery?  Far better than the food. Leaving Reno, the Zephyr follows the Truckee River to Truckee itself, then climbs Donner Pass over the original transcontinental rail route.  Highlights include passing high over Donner Lake, then skirting the American River canyon during the descent into Sacramento. 
But does Amtrak reflect cultural reality?  Well, try this: At the Naperville, Ill. station a lone woman was on the platform. She was wearing a mask, and a "Black Lives Matter" sign was leaning on the wall next to her. 
Rooms?  The roomettes are very small and the upper berth is too narrow for any passenger wider than a snake. In the deluxe bedroom you get two more spacious beds, a sink, a shower and a toilet. But even in this pricey accommodation, Amtrak's TP is still one-ply.  Coach? A lot cheaper, but you might end up near a bawling baby or guy who snores all night.  
Fares?  If you don't have a set schedule, you can save a lot.  Amtrak prices vary wildly from month to month or even from day to day. So shop around. Generally, it's cheaper to fly than to ride the train. But who really wants to fly?  
And the service?  Invariably good. On a train, you get to know the service staff. You're with flight attendants two hours. You're with sleeping-car and the diner staff for two days.  Most know a lot about railroads, have a few stories and the time to tell them. They also get to ride Amtrak for free. "What a great perk!" I told an attendant a few years ago. "Not to me," she answered. "Why would I want to spend my vacation at the office?" 
Does Amtrak run on time? If you're in a hurry or on a tight schedule DO NOT ride the train. And allow 12 hours for connections. That said, the three trains I rode on this trip were either on time or early. I hit the trifecta, and that may never happen again. 
Will you be happy to get home?  After six days and nearly 5,500 miles on Amtrak, I'm more than ready.  I'll savor the wide-open spaces of Yankee Hill.  I'll also look forward to hikes with my dog and getting back on my bike. Beyond walking station platforms, you don't get exercise on a train. But yes, the rail trip did its job: I'm was stir crazy and now I'm not.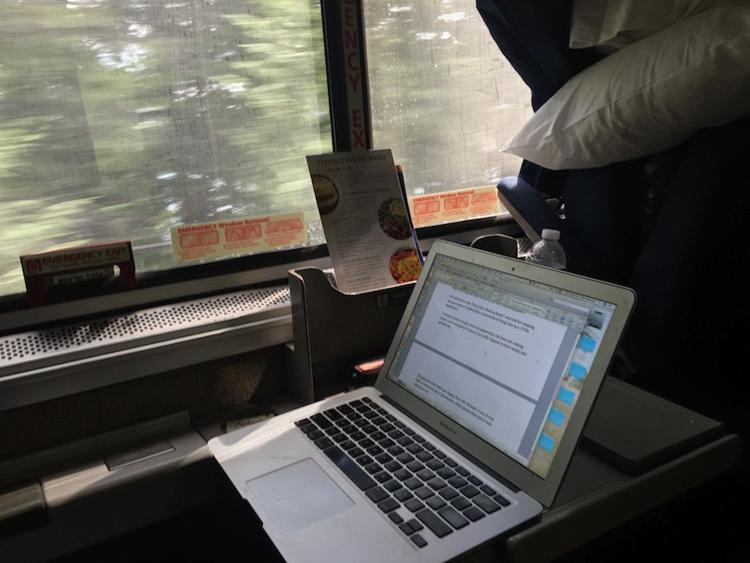 Have you had enough trains? Riding is in my blood and has been since I was a kid. I'm what the Amtrak folks call "a foamer." I have an unreasonable enthusiasm for the rails. So of course I'll ride again. But I'll probably wait for full service diners to return. Then I'll try to remember to bring a roll of two-ply with me.