A week ago it was supposed to be not as hot in Sonora, in the 80s and cooler than previous weekends, and we decided to go east over Sonora Pass to check out the West Walker River and Leavitt Meadows.
I'd been this way countless times before and passed by Leavitt Meadows Pack Station and Leavitt Meadows Trailhead. I'd spent time with rock-climbing, cliff-descending Marines at the Mountain Warfare Training Center at Pickel Meadows. But this would be my first time walking trails on the Eastside Sierra since moving to the Mother Lode in 2014.
For people without four-wheel drive looking for easy walks, the West Walker River and Leavitt Meadows are one of the closest Eastside destinations to reach from Sonora. The trailhead is right off Highway 108 in Mono County. A lot of people who grew up in Tuolumne County have walked this way and know it's popular.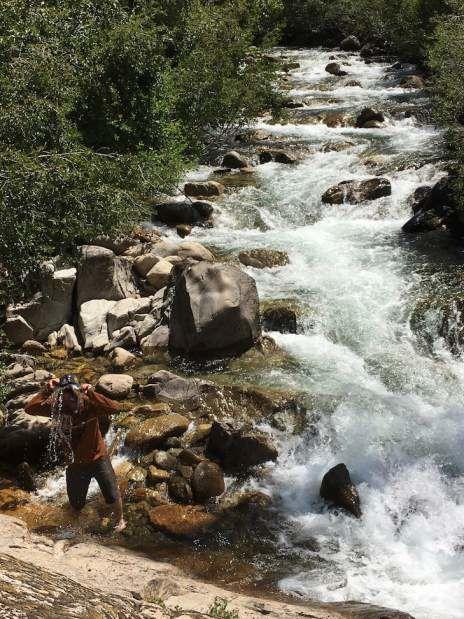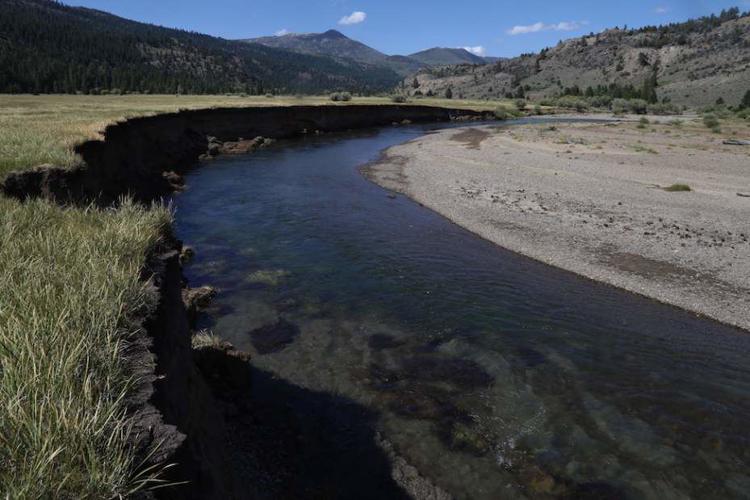 We expected to be walking elevations between 7,000 and 8,000 feet, with several lakes on the first leg of our loop, then return on a trail that follows the meandering, alluvial West Walker River through Leavitt Meadows.
We started walking about 8 a.m. It was cool and breezy with wind gusts to 20 miles per hour. We followed trails east up a ridge to a small meadow and found a weather-beaten wood sign for West Walker Trail No. 1030 and arrows pointing toward Secret Lake and Roosevelt Lake.
Before 9 a.m. we came to a high point on the ridge that opened up and gave us superb views of the West Walker flowing back and forth across the broad, flat expanse of Leavitt Meadows, with jagged, snow-capped peaks more than 11,000 feet high in the distance, and closer to us, green-flanked mountainsides that rose to brown-black cinder cone peaks south of Sonora Pass.
By 9:30 a.m. we could see Poore Lake below us to the east at 7,200 feet. Then we came to Secret Lake at 7,500 feet and found people camping there. The water looked inviting but it was still too cold to swim. We kept walking and by 10 a.m. we came to a sign for the Hoover Wilderness, and another that said, "Caution: A new animal carcass is in the area which may attract bears. Be aware."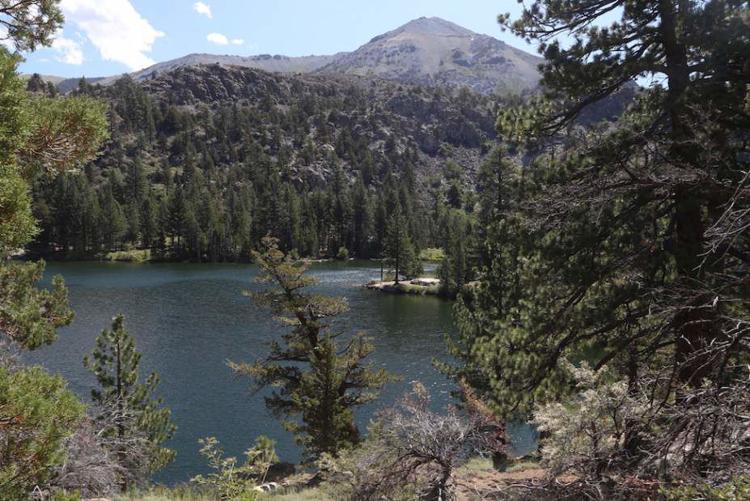 There was also a sign explaining the history of the brutal West Walker-Sonora emigrant trail early wagon train pioneers used in the early 1850s to try to cross the high Central Sierra crest. The former West Walker-Sonora Road was nothing more than a very difficult trail believed to be first attempted in August 1852 by wagons of the Clark-Skidmore Party, from Indiana and Ohio, who hoped to reach gold mines in Sonora and Columbia.
They heard their journey over the high Central Sierra would take 10 days but the West Walker-Sonora trail was so harsh it took more than a month. They stopped at Leavitt Meadows and resupplied at what they called Relief Valley near Kennedy Meadows. Reduced by desertion from more than 50 men and a dozen wagons to 15 men and a handful of wagons, the remnants of the Clark-Skidmore Party eventually reached Columbia in September 1852.
The following year, historians say, citizens of Sonora and their mayor promoted the West Walker-Sonora route, and the San Joaquin Republican reported in November 1853 that 593 wagons, 2,375 people and 18,750 head of cattle came over the trail that year.
A fur trader and guide who called himself Major John Ebbetts followed the West Walker-Sonora Road from west to east in late 1853, looking for a viable railroad route. He described a trail littered with dead animals and broken wagons, and concluded, "This route is the worst that could be found . . . I advise no emigrant to take it." The West Walker-Sonora wagon route fell into rapid disuse as emigrants found easier ways to cross the high Eastside Sierra.
At 10:30 a.m. we came to Roosevelt Lake at 7,250 feet. This connected directly to Lane Lake and another, smaller lake with no name, at slightly higher elevations. The trails we followed wound back and forth, and it was unclear from maps what we would come to next, but we knew the West Walker River was directly west and below us, so we kept walking.
Suddenly we could hear water rushing and roaring. We came to a rock-walled chute with the West Walker River hurtling whitewater along its bottom 20 to 30 feet below us. We found a waterfall plunging 30 to 40 feet further upstream. It was just after 12 p.m. and we agreed to stay for an hour. I took off my shoes and waded into a shallow section above the waterfall to use my hat as a bucket and soak myself. The water was freezing cold.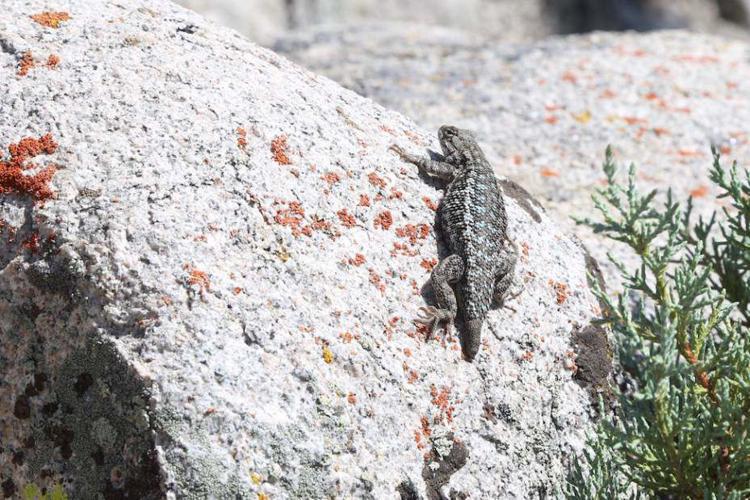 By 2 p.m. we were back at Roosevelt Lake and we looked for a fork in the trail that would take us west and down into the alluvial oxbow-river plain where the West Walker spreads out and flows through meadows a quarter-mile wide and wider.
Coming out of the crowded forest into the wide, beach-like expanse of the meadows, we took in views clear to the cinder-coned highest points south of Sonora Pass, thousands of feet above us.
We walked through stands of quaking aspen and found fields of wildflowers, white, yellow, and purple, and riots of Sierra Nevada mountain dandelion. We came to the West Walker River, wide and shallow and moving slow. A co-worker decided to get in the water and it shocked him awake.
Winds were now gusting 20 to 30 mph. By 3:30 p.m. we were walking past sections of meadow trail that washed out in high waters when the West Walker tore out sections of its own riverbanks. By 4 p.m. we were at Leavitt Meadows Pack Station, admiring healthy horses and mules in their corrals.
All day long we'd seen few people at the lakes, and even fewer on the trails. Walking a few hundred yards down the shoulder of Highway 108 to the trailhead where we'd left our vehicle, the three of us agreed the West Walker River and Leavitt Meadows were something completely different for us, something new, something fresh.
Reporter's note: Before I began working for newspapers in the early 1990s, I spent seven years with VisionQuest and Outward Bound as a paid, certified wilderness instructor and emergency medical technician accountable for groups of felony offender teens, court-ordered children and adult Cuban refugees. I am in my late 50s and anyone who walks OK on their own can keep up with me anywhere.
Contact Guy McCarthy at gmccarthy@uniondemocrat.com or 588-4585. Follow him on Twitter at @GuyMcCarthy.